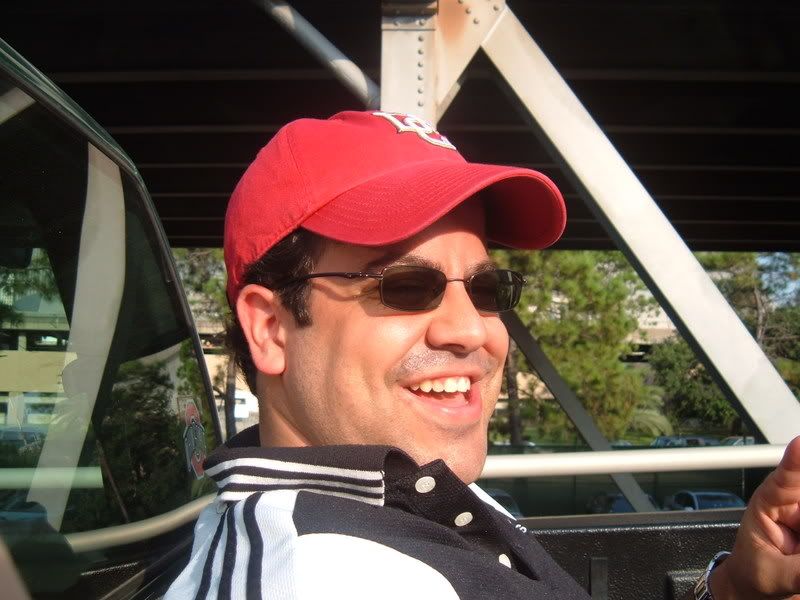 Friday evening was eventful and crazy and generally everything you'd expect from a Saints game. Cabs were running late around the city because of the game, so we piled into Kevin's truck and headed down towards the Superdome. Dave the Banker, Franco and I all sat in the back, wondering if Kevin's road rage was going to result in us getting shot.
The boyfriend was there, decked out with a camera and a NOLA.com cap, taking pictures of the hopeful fans as they arrived at the Dome to see our future back-ups play against the Bills. As I've mentioned before, this was an interesting game for me, because my dad's family is from western New York, and a lot of them are Bills fans.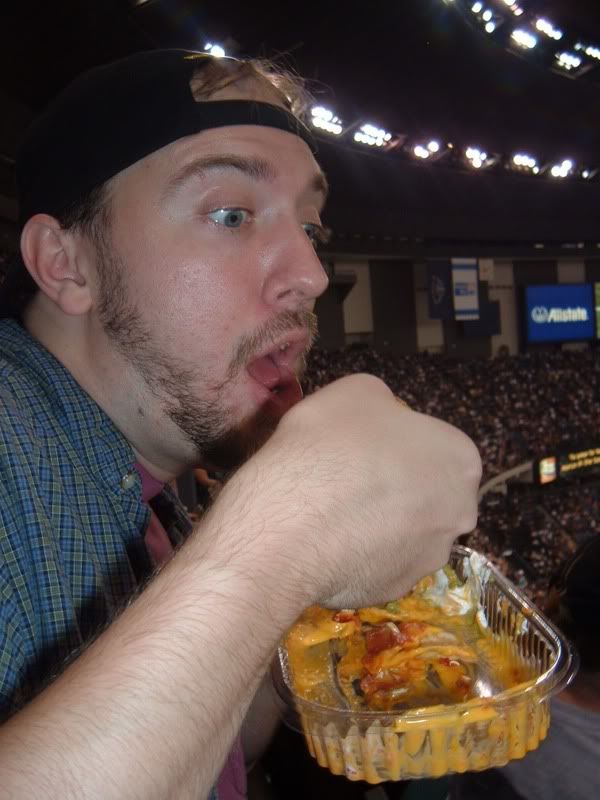 If you haven't been to the Superdome for a game before, let me let you in on the barely concealed secret of the Superdome - you can buy mixed drinks, alligator sausage, and jamalaya. And apparently, at some stands, you can also purchase something called "Supreme Nachos." After careful consideration, D. and I have decided that said nachos are superior purely by virtue of the fact they take 3 people 10 minutes to make - it was something like watching an old "Three Stooges" episode.
But the real secret isn't that nachos are labored over extensively at the Superdome - it's the Bloody Marys. They're simply legendary. I don't even *like* tomato juice, and I was really impressed by the spicy, ginormous Bloody Mary I tried, steeped with pickled green beans and Spanish olives, and laced with a healthy shake of Tabasco sauce.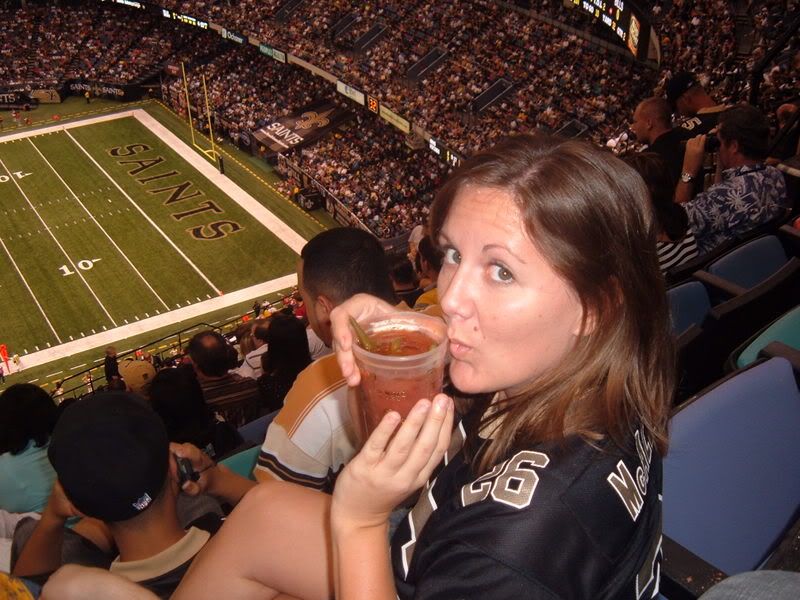 While I marveled at the sheer beauty of this drink, D. was plowing his way through our supreme nachos with an almost fanatical vigor. He managed to overcome the deplorable lack of jalapeno slices on the nachos and persevere through his grief. And yes, this was all taking place during the game. Speaking of which...
Brees looked great, completing 12-of-14 in the one quarter in which he played. McAllister had a couple of carries. Our secondary is still nonexistent, and Olindo Mare looked like he was still kicking for the Dolphins (case in point: a blocked field-goal...against the Bills!!!). We lost, 13-10, but as the main point of the preseason is to test out signees for possible roster spots, I found the game very interesting. Tyler Palko mystifies me.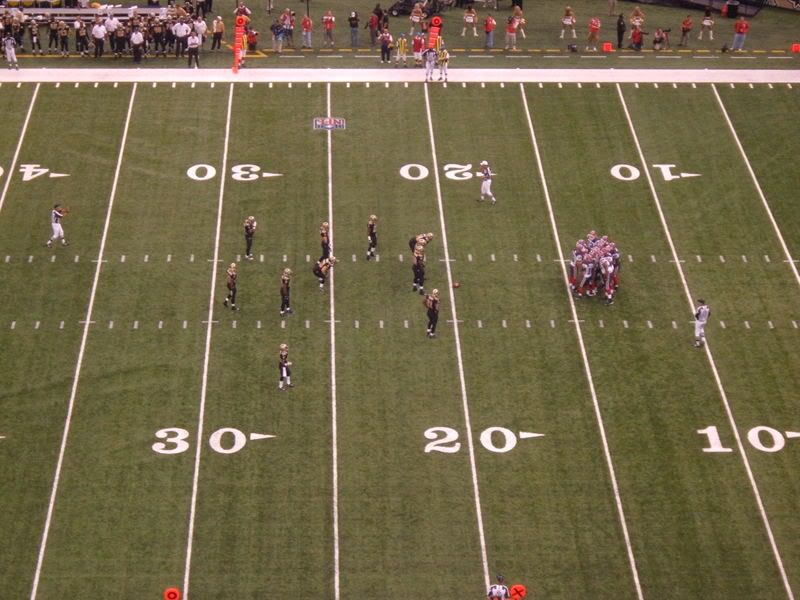 He's got a less-moronic-than-Chris-Rix-yet-strikingly-similar-throwing-style quality that I find fascinating. He reminds me of every FSU quarterback during the Daryl Dickey era - during his freshman season, he blows sportswriters and fans away with his talent, and during subsequent seasons regresses due to bad coaching and a lack of ability to read the field...or...bad coaching. D.'s blog about the game mentioned that he thinks that Palko won't make the team, but that he'll end up on the practice squad for the Saints (which promptly got him reamed by some psychotic fans who apparently didn't watch more than the first quarter of the game). I think he's right, personally.
Outside of Robert Meachem's 20-yard endzone reception for his first NFL touchdown, the fun at
the Superdome during Friday night's fairly yawnfestish preseason game came from the fans and the halftime entertainment. New Orleans apparently played host to the world flag football championships last week (Canada beat Mexico in a NAFTA-like fury to claim the title), and the field was full of teams doing exhibitions matches. We were particularly drawn in to Austria's pounding of China's little kids. In fact, Dave the Banker, in what might be the best-timed thing to ever yell during halftime, bellowed out:
"Eat THAT, China!"
Our entire section roared with laughter...and then Kevin did the
Chicken Dance, and we again roared with laughter. I can't fault the man too much, as he is due to start working with M. (pictured to the left enjoying a balmly 90 degree night) and me on Wednesday. And he DID bring dessert to Sunday dinner last night.


Man, that was a good pot roast.


I'm just sayin'.