...and sometimes confusing.
As a kid, I remember hearing Grandma kvetch (yes, a Southern Bapthlic speaks some Yiddish...so?) about Turduchens. As a 5 year-old in Alabama, I assumed this was some exotic disease, or perhaps an extinct species of fowl.
Southern food generally has a few stereotypical characteristics. If we can fry it, we do. We don't mess around with seafood boils - we take them seriously. A pound cake is always an appropriate hostess gift. A family barbeque demands deviled eggs and peach cobbler.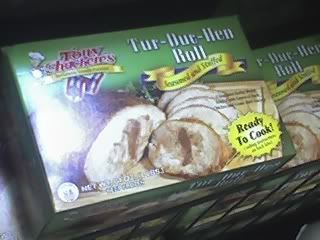 Fairly straightforward, right? But New Orleans is not, despite what you may be thinking, a southern city. This is a city full of diverse, rich textures and cultures - the food is amazing. We have po-boys (shrimp and other, naturally), mirliton, turtle soup, alligator pie, gumbo, etouffee, pralines, sazeracs, muffalettas, beignets and any other kind of food you can imagine.
Someday I'll catalog all of my favorite restaurants and recipes from NOLA, just to torment those of you who DON'T live here. ::evil grin::
But back to the point - is there anything more artificial yet still tasty as the Turduchen (pictured above at Walmart)?