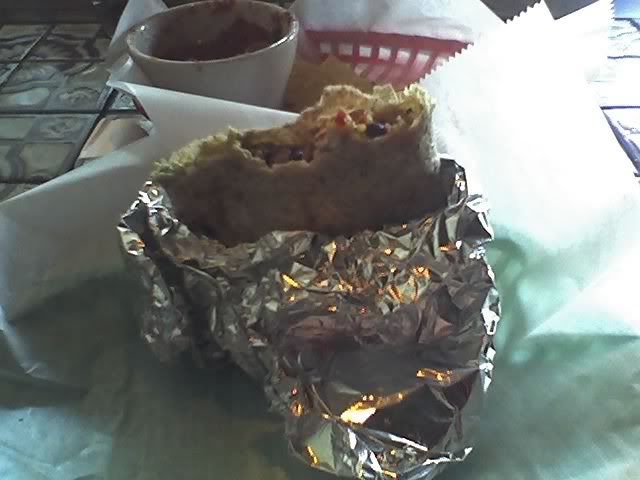 I flew back into New Orleans on Friday morning after a harried drive to the airport (yep, AGAIN) that involved carefully and nimbly driving through the scene of an accident - the stoplights were all out from the storm, and two cars had failed to observe the automatic four-way stop rule. One of the cars had its windshield knocked CLEAN onto the pavement. Wow.
Fortunately, everyone seemed okay.
I got back into town and drove home just as the DirecTV guys were leaving - they replaced our HD receiver, so we were all set for a weekend of football. Hooray!
I've not gotten to spend a lot of time with D. of late - he's been working very, very hard - so we decided to grab some lunch before I buckled down and got back to work. We drove down Magazine to
Juan's Flying Burrito
, famously billed as New Orleans' Creole Tacqueria. I could probably eat there every day quite happily, and given D.'s unholy obsession with Mexican food, I feel safe in predicting that he'd feel the same.

We both ordered the namesake dish - take a gander at the menu's description of this epicurean tour de force, and allow for a moment of envy:

Flying Burrito: chicken, steak, shrimp, sour cream and guacamole, black beans, yellow rice, cheese, salsa and hot sauce all are rolled in a large grilled flour, spinach or whole wheat tortilla


Oh yeah. It's THAT good.


So Saturday worked out pretty well - both FSU and K-State won. Weirdly, Auburn was upset by USF. I know USF has been on the radar for the past couple of years, but it was still odd to see the Bulls upset Auburn at Jordan-Hare. LSU looked great against a lackluster VT. South Carolina beating UGA between the hedges wasn't terribly surprising. The Fresno State-Texas A&M game was a thriller, too.

And Michigan? Wow. Just...wow. I'm mildly gleeful that Michigan AND Notre Dame are both 0-2.
Two quick notes, though:
1) Bill Callahan had possibly the most obnoxious post-game interview I've ever heard. When asked about his near loss at Wake Forest, he snippily replied, "Where are my congratulations? Well?"
2) Washington looks like the real deal - did you see that Boise State upset?? If Willingham returns the program Neuheisel almost destroyed to national prominence this season, it'll provide great vindication to a classy coach screwed over by Notre Dame.