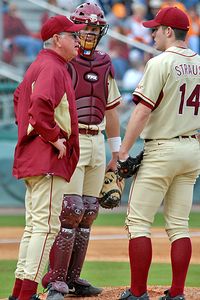 From
AOL sports
:
College athletics are fun because you always see players being ridiculously versatile. But Buster Posey, a Florida State baseball player (what position I have no idea to attach here), took things to a whole new level last night. He played all nine fielding positions. In one game.
In case you think I'm kidding about Buster Posey, well, I'll point to the
Orlando Sentinel
's
awed column
about his prowess:
First he played catcher. Then first base. Then second base. Then shortstop. Then third base. Then left field. Then center field. (Where are we now? OK -- seven positions so far.) Then he pitched. Then he played right field.

Oh yeah. In addition to playing all nine defensive positions on Monday night, Buster Posey also hit a grand slam during Florida State's 10-0 victory against Savannah State.

So all in all, not too bad a night, eh?



Posey, a leading candidate for every college baseball player of the year award there is, became the fourth Seminole to play all nine positions during a single game -- and first since Mike Martin Jr. did it during an FSU victory against Furman in 1994.
So...yeah, if Posey isn't voted college player of the year it will be a distinct travesty. This kid will at minimum be a top-ten draft pick, after all.
Go Noles!