Last night, D. and I met up with Dave the Banker at The Bulldog. Said establishment sits on a busy corner of Magazine St., and is well-known for insanely good drink specials and a solid menu designed to prevent hangovers. Ever the pious bar, The Bulldog offers specials on Bloody Marys on Saturday and Sunday afternoons.

Indeed. Good times, and good food.
I used to take my parents to The Bulldog for a casual lunch when I'd be up here visiting - they'd drive over, occasionally with the collie monsters. Magazine St. is famously dog-friendly, and The Bulldog has earned its moniker with friendly outside service to patrons with pets.
After dinner, we saunted east on Magazine towards La Divina Gelateria, which makes old-fashioned gelato with ridiculously fresh ingredients. The Banker chose chai-infused gelato, D. chose ripe banana gelato, and ever the rebe/chocolate-obsessed gal, I chose Chocolatta Azteca. One of my favorite flavor combinations in Mexican cooking is cayenne and cinnamon whisked into dark, rich chocolate - and this gelato promised that. Frozen with chopped cayenne peppers thrown in, one bite caused my eyes to water and my throat to beg for roughly 1,230,230,230 gulps of Pellegrino.
But, oh, was it worth it. Mmmm. Situated on the same block of Magazine as artisanal sweet shop Sucre, La Divina Gelateria is a fantastic place to indulge your sweet tooth.
http://www.ladivinagelateria.com/
Another local institution is the Sake Cafe. Sure, there are other amazing sushi restaurants in NOLA - Hana, Kyoto, and the Sushi Brothers, to name but a few - but the Sake Cafe's creative sushi and sashimi always lure me back.
True story - there was a time I detested raw meat. Sushi, steak tartar, ceviche - you name it, if it wasn't fully cooked, I wouldn't touch it. I gingerly tried a truly awful California roll back in high school, and that put me off sushi again until I moved to south Florida.
The Sake Cafe, though, manages to take amazingly fresh fish and turn it into mouthwatering art.
Here's what confronted my boss, Ryann, Kevin (his first day working with us!) and me at the Sake Cafe in Kenner today: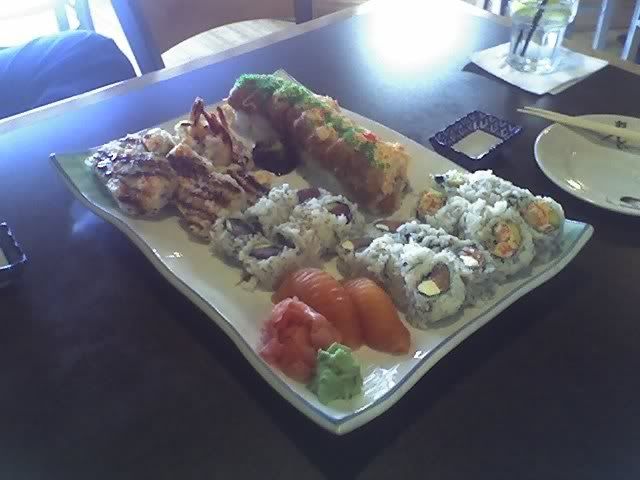 Pictured you'll see salmon sashimi, a Philly roll, a crunchy tuna roll, a spicy tuna roll, a Kenner roll, and a New Orleans roll.
One of the cool things about sushi, apart from the different combinations of tastes and colors, is the artful display.
Oh, man, that New Orleans roll was spectacular...
My boss kept trying to snag a picture of me trying to cram an entire piece in my mouth at once - shrimp, crawfish, crab and tuna with roe and avocado and tempura batter.

Yeah, I was pretty much in heaven.


OK, it's time to pretend I actually sleep. Tomorrow's actually a pretty busy day, and Kevin, Michelle and D. and I are catching a screening of "Superbad" out in Kenner. Whoo-hoo!